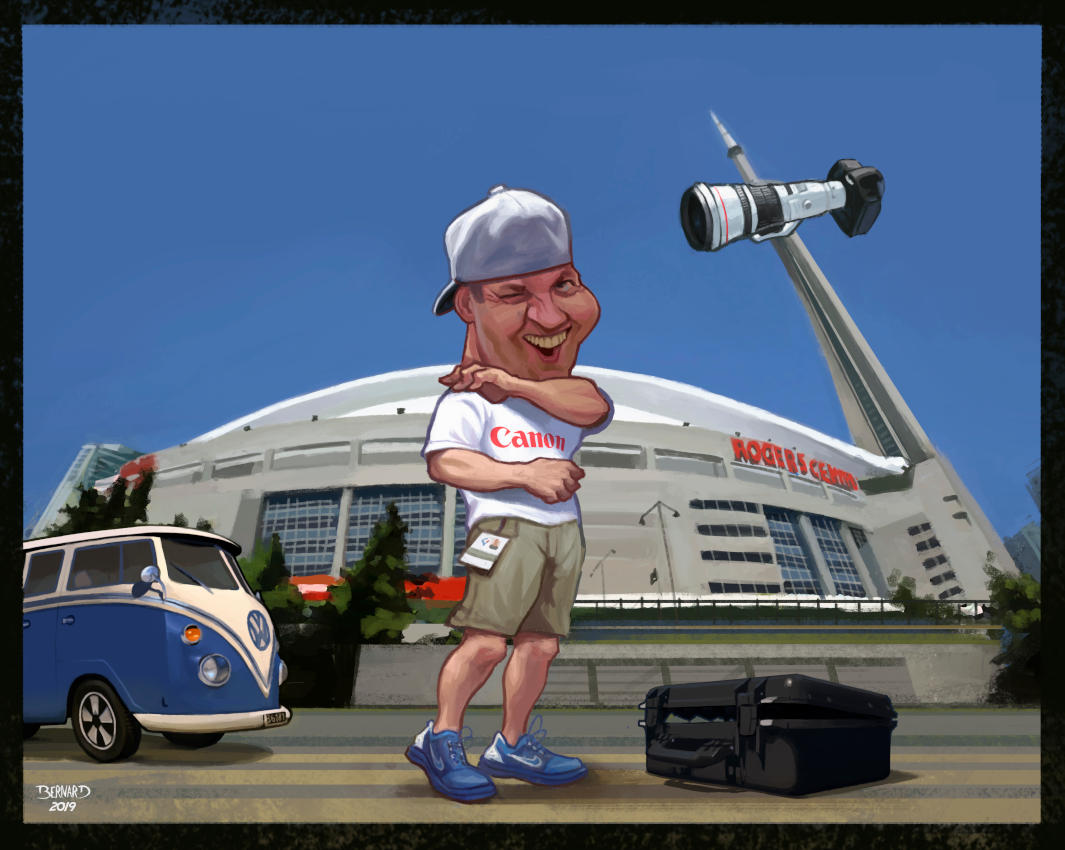 HI, MY NAME IS TOM. WELL, TOMEK, TO SOME.
I'VE LEARNED OVER THE YEARS TO BECOME A VISUAL THINKER WHO LIKES TO LISTEN WITH HIS EYES AND TO COMMUNICATE HIS IDEAS VISUALLY.
AND WHAT IS MOST OFTEN ON MY DANCE CARD THESE DAYS? WELL, SHOOTING SPORTS - MOSTLY BASEBALL GAMES - IS HOW I SPEND LOTS OF MY TIME AND I WOULDN'T HAVE IT ANY OTHER WAY. NOTHING BEATS THE GRAND OL' GAME.
I'VE ALWAYS BEEN THE KIND OF PERSON WHOSE IMAGINATION HAS KNOWN LITTLE BOUNDS AND WHO IS CONSTANTLY IN SEARCH OF A CANVAS TO UNLEASH HIS THROBBING CREATIVITY, WHICH IS WHY I USE CAMERAS AND SOFTWARE TO UNLEASH THESE FORCES. I'VE ADDED 3D TO MY TOOLSET, WHICH HAS LAID THE GROUNDWORK FOR THE CREATION OF SOME HEADSHAKING, SUBVERSIVE ART, THE KIND THAT MAY LEAVE YOUR HEAD SPINNING FASTER
THAN LINDA BLAIR'S. THE CAMERA, OF COURSE, REMAINS THE MAIN VEHICLE FOR UNLEASHING MY CREATIVITY AND, EVEN THOUGH I DON'T USE CLAY OR PAINT, I STEADFASTLY BELIEVE THAT I AM NONETHELESS AN ARTIST.
SO, IN THIS WEIRD AGE OF GENITAL PIERCING, GENDER CONFUSION, NECK TATS, PURELL HAND SANITIZERS, GRADE INFLATION, MISGUIDED TWITTER MUSINGS, ETC., I REMAIN COMMITTED TO THE BEDROCK BELIEF THAT, WITH THE RIGHT MIX OF ARTISTIC APTITUDE & TECHNICAL SKILL, GOOD CONTENT WILL ALWAYS FIND A HOME.